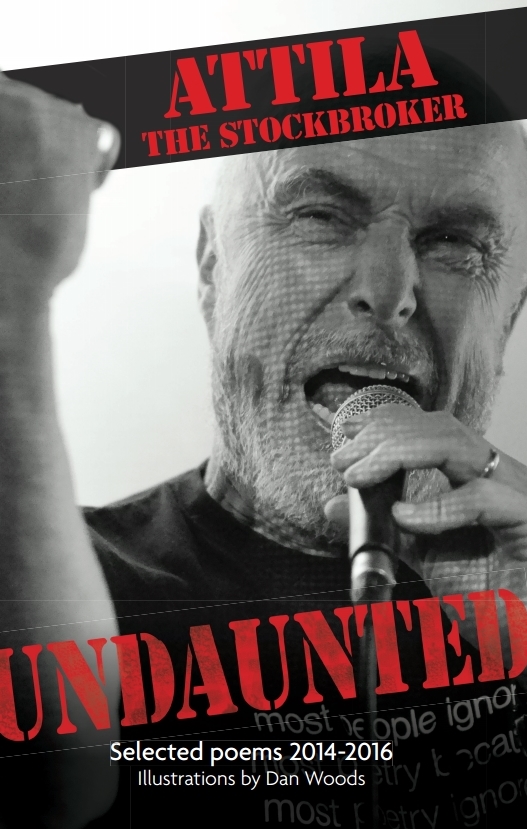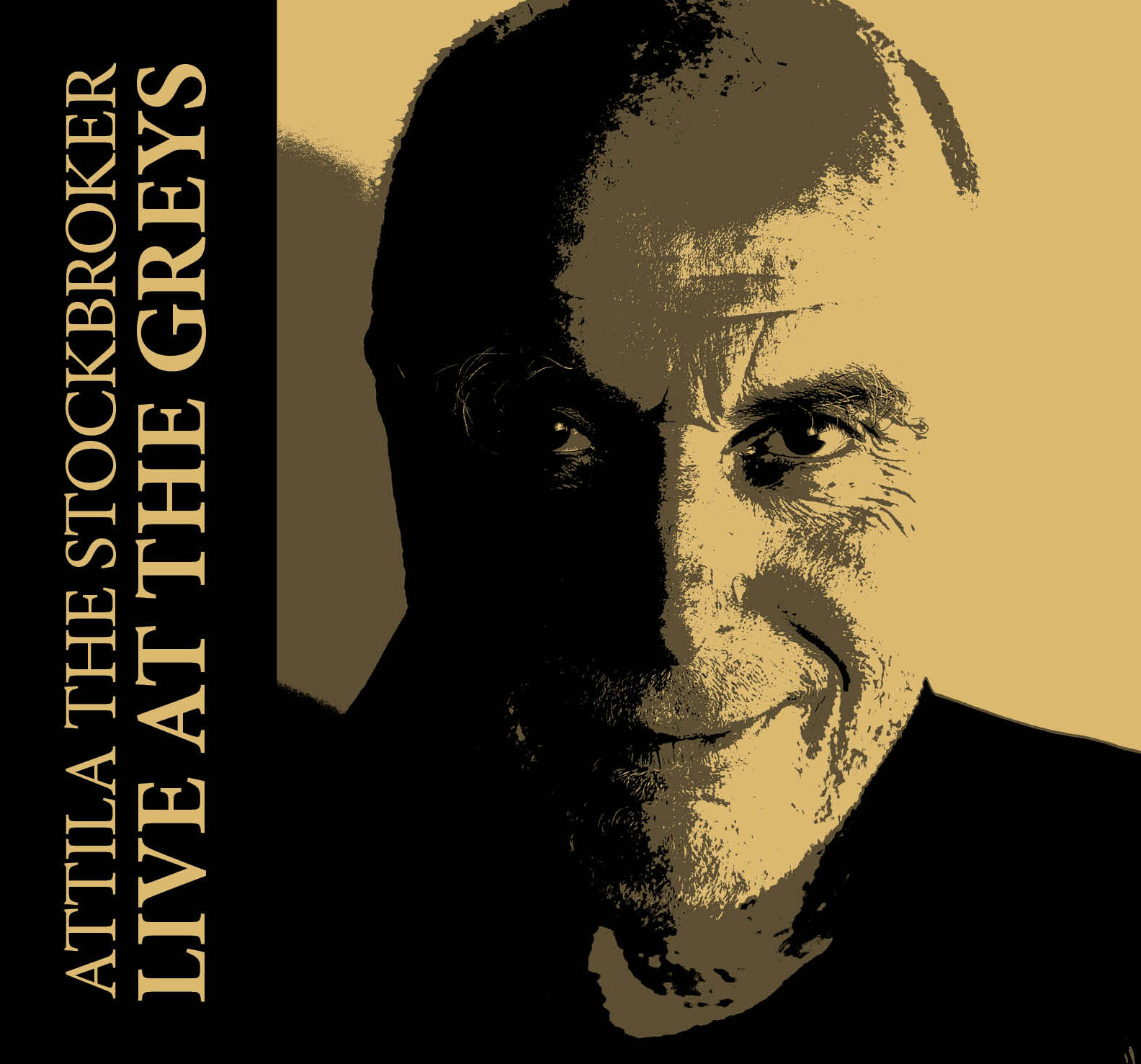 My brand new spoken word CD 'Live at the Greys' is out now. 17 poems, 2 songs. Great audio recording done in a brilliant Brighton music pub in front of a load of mates by Joel Carr.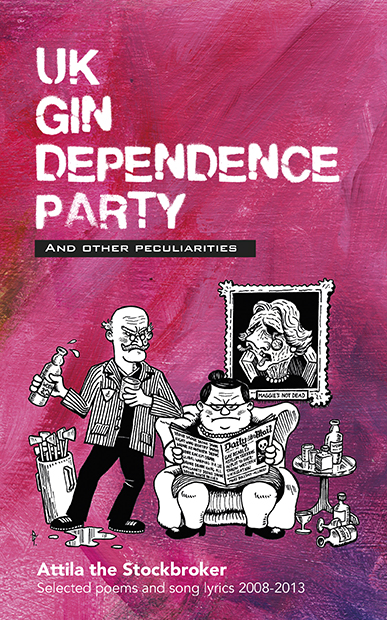 Attila's latest book of poems, published December 2013
Click the image to go merchandise page with extensive list of books, CDs and T-shirts!


THE GIGS ARE BACK!

My new 'Dub Ranting' EP is available from attilathestockbroker.bandcamp.com and will soon be on vinyl

And I'm out on the road performing from my Collected Works 'Heart On My Sleeve'...

Hope to see you somewhere!


*


'HEART ON MY SLEEVE' - MY LIFE'S WORK IS PUBLISHED by Cherry Red Books on 5 APRIL 2021!

Monday 5th April 2021 is the official publication date of 'Heart on my Sleeve', my Collected Works 1980-2020! I shall be celebrating the event with a live stream on Facebook that night.... https://www.facebook.com/events/806416159968972/ It was supposed to have been published on Sept 10 2020 and launched with a massive gig at Dingwalls, followed by a tour of the UK and Europe. We all know what happened next.....

So unlike the Titanic, this book will have had two launches: the unofficial 'online' one last September, since the books were already printed and I wanted enthusiastic supporters to have the opportunity to still get a copy, and the offical 'everywhere' one on 5 April. From then it will be obtainable in most booksellers, online and actual, independent and mainstream - and if you prefer, you can get it now direct from me at https://attilathestockbroker.bandcamp.com Signed if you like.

It's my life's work. 336 pages, illustrated by long time collaborators Phill 'Porky the Poet' Jupitus, Womble, Dan Woods and Nick Staples. If you have ever had fun at an Attila the Stockbroker performance over the last 40 years, I can guarantee that some of the poems and song lyrics you heard will be in it. And if you've enjoyed my posts on social media I think you'll like my use of language.

All obvious caveats in place, I am starting to book actual live gigs to promote it from July onwards..with maybe one or two outside ones earlier. More details soon.

The book is on the Hive independent network and all the big booksellers. Peer reviews are most welcome, especially on Waterstone's site, and media review copies are available from matti@cherryred.co.uk

I've never done crowdfunding, never really asked for support from this community before, but I'd love it if you'd share news of the publication of my life's work and, if you feel like it, pester the mainstream media on my behalf to give Matt at Cherry Red a hand


*


Tuesday, 8th September 2020 marks the 40th anniversary of my first gig as Attila the Stockbroker - the first of some 3,700 gigs in 24 countries, and for more than 38 years of the 40, I am happy to say, I have been able to earn my living doing what I love. I had a massive celebratory tour planned, all over the UK and mainland Europe, both solo and with my band Barnstormer 1649 - and, of course, it's all been cancelled. I am absolutely gutted, but there are people far worse off than me, so I'm not going to moan, I'm going to tell you how I'll be marking the occasion online.

On September 8th, 40 years to the day, starting at 7pm, I shall be doing a three hour fund raiser request show on Facebook Live at


https://www.facebook.com/attilathestockbroker

and asking for donations in aid of the absolutely inspirational Worthing Food Foundation who are doing wonderful work in my local area. Fifty friends and fans have requested their favourite songs and poems spanning forty years, and I shall be performing the lot. (I think it will take substantially longer than three hours, to be honest!) I am asking many of my collaborators over the years if they will co host my broadcast via their Facebook pages for the evening so as to reach as many people as possible. If any sympathetic performers or organisations would like to help me celebrate this auspicious event please drop me an email at attila@attilathestockbroker.com

And two days later, on 10th September, when I was supposed to be playing my biggest ever UK gig at London's legendary Dingwall's with a stellar line-up of long-term collaborators including John Otway, TV Smith and the Newtown Neurotics, I shall be doing a special reading of my 2015 autobiography 'Arguments Yard' at


https://www.facebook.com/attilathestockbroker


I have had some truly extraordinary experiences in 40 years as Attila and 62 in this world, and I want to share them with you.

I hope to be back in front of a live audience soon, but I won't be until I am sure it is sate to do so.

Please keep safe everyone.










'RESTORATION TRAGEDY', Attila's new album with his band Barnstormer 1649, is available now on CD with a 16 page booklet and as a double vinyl LP with a gatefold sleeve. The album's 58 minutes long (hence the double vinyl) and is far and away the best musical project he has ever completed in 38 years as Attila the Stockbroker. It's available now on CD and vinyl LP from the Merch page - and there are special reduced price packages of CD and LP, CD and cover badge and CD, cover badge and T shirt.

The new album will be launched on Saturday 8th September 2018 at Wigan Diggers' Festival, which is totally fitting since it's a whole set of songs based around the English Revolution of 1649 and the radicals who were a part of it, played on a wide variety of Renaissance instruments. Early music meets punk. Yes, it really doesn't sound like anything else. Music for Levellers, Diggers and Ranters! To get your copy via Paypal or cheque please go to Merchandise. There will be many gigs all over the country both before and after the launch: go to Gigs for details. You can listen to some of the new tracks here.

Attila says: I have always loved early music and have taught myself to play many ancient instruments. For the last 30 years or so I have had an ambition to record a whole album combining early music and punk in the same kind of way that the Pogues combined Irish music and punk. I wrote a couple of early music pieces for my solo albums in the 80s, and we played around with the idea on some of the tracks we recorded in the earlier incarnations of my band Barnstormer, especially on our first album 'The Siege of Shoreham'. But with 'Restoration Tragedy' we have finally done it - hence the addition of the '1649'.

The album features Jason Pegg (guitar/backing vox) Tim O'Tay (recorders/backing vox) M.M McGhee (drums) and Dave Cook (bass/backing vox) four fantastic musicians, and a special guest spot from my talented pianist wife Robina, who composed one of the pieces. I sing and play crumhorn, cornamuse, bombarde, shawm, rauschpfeife, recorders, violin, viola, mandola, and mandocello. It features 14 songs and tunes based around the characters and events following the English Revolution of 1649 and the execution of Charles 1st, focussing on the Levellers and Diggers, the Ranters and their leader Abiezer Coppe and the escape of Charles II from my home port town of Shoreham in a coal brig called 'Surprise' after the Battle of Worcester in 1651.

It was that coincidental combination of my love of local history and of early music which gave me the idea which brought the whole thing about, and it was an idea that came to fruition very quickly ' I started writing the songs only last October and the whole album was finished by the middle of May. The band has done about 15 gigs so far with the new material and we have many more booked all over England in the next few months ' offers welcome, and I am of course also continuing my solo shows where I will be showcasing bits from the album as well.

Attila is touring the UK with his unique band Barnstormer in 2018. Early music meets punk! Roundhead Renaissancecore and Baroque 'n' Roll. More gigs welcome - contact us at attila@attilathestockbroker.com Listen here on Soundcloud More info on the Barnstormer page.

'Undaunted', Attila's 9th book of poems and his most topical, heartfelt and personal ever, is published on 2 April 2017 and can be ordered from the merch page. It features some wonderful illustrations from the Barnstormer guitarist, Dan Woods. Each copy comes with a free CD of Attila's much-acclaimed poems for his mother and stepfather. As usual, Attila will be doing loads of gigs all over the place! If you would like to put him on, get in touch via attila@attilathestockbroker.com, Facebook or Twitter

Young film maker Farouq Suleiman has just produced a short documentary about Attila for his 35th anniversary earning a living as a poet with lots of old footage - it's here →
You can read Attila's bimonthly Morning Star column here
'ARGUMENTS YARD', ATTILA'S AUTOBIOGRAPHY, PUBLISHED BY CHERRY RED BOOKS IN SEPTEMBER 2015
Attila is currently touring extensively round the UK to promote his autobiography and his new book of poems 'Undaunted' will be published in the spring. Please see Upcoming Gigs for dates. Signed copies are available here direct from him: please go to the Merchandise section. Here is the page of reviews. Elsewhere it's available at all Attila's gigs, the Cherry Red, Waterstones and Guardian books websites (to name but three), many branches of Waterstones and many independent bookshops...



Click to purchase