News Update - June 2020

We may be just coming out of lockdown with no idea when gigs will start again, but 2020 is my 40th Anniversary as Attila the Stockbroker and I am doing my best to celebrate, as you will read below.

All gigs and festivals are of course now cancelled until at least September, and probably later than that. There will be more news about the gig situation as soon as we have some idea about what is happening. But meanwhile I am writing huge amounts about current events and doing regular live broadcasts via Facebook Live, raising funds for our local foodbank and support group and for DIY performers made destitute by the cancellation of all gigs.

To keep bang up to date with everything please join my page at https://www.facebook.com/attilathestockbroker

And please KEEP SAFE everyone.

TWO NEW VINYL ALBUMS are available from the Merch page.

HEART ON MY SLEEVE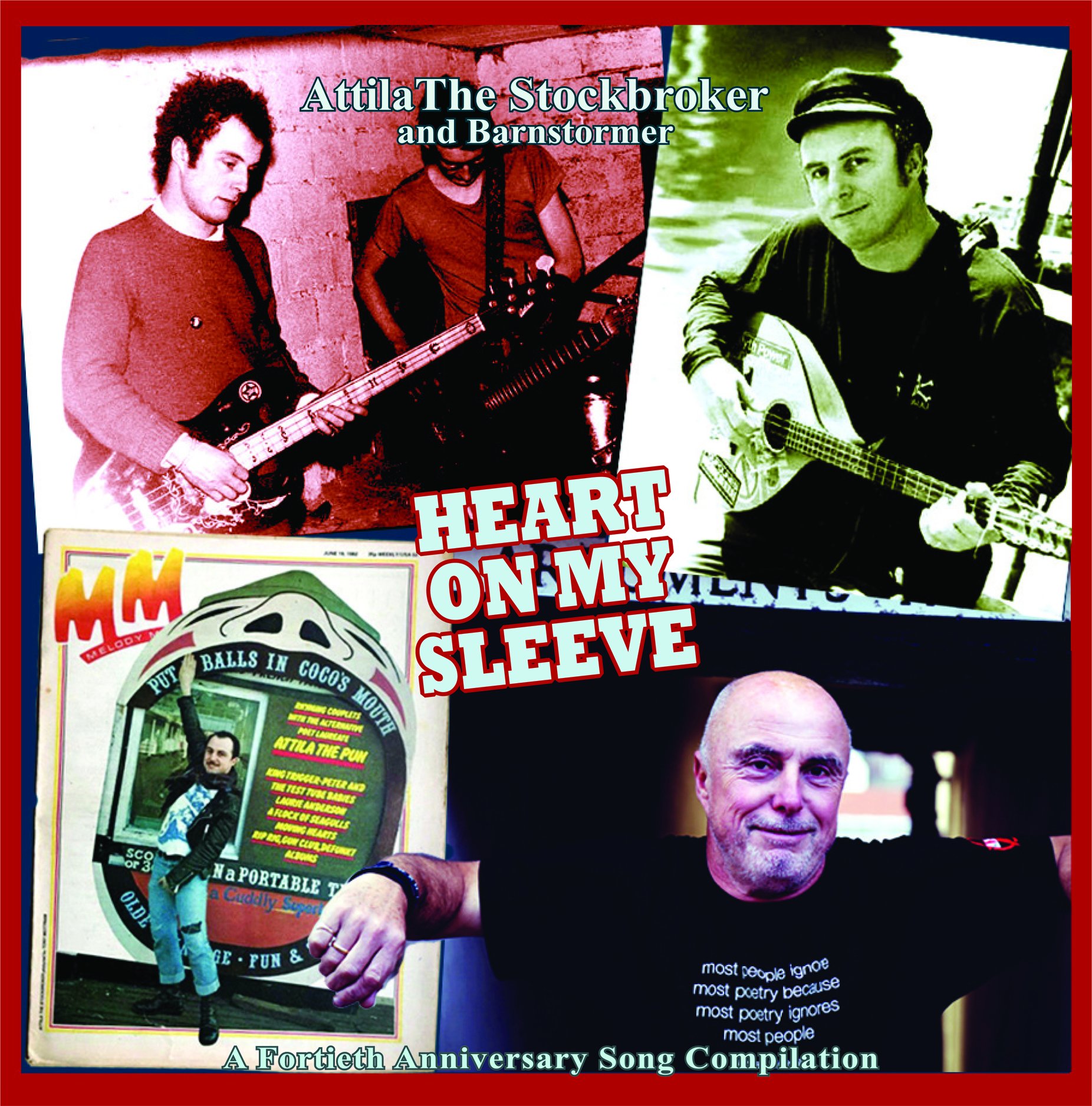 A new vinyl album, Heart on my Sleeve has just been released by Finnish label Hiljaiset Levyt (Quiet Records) to celebrate my 40th anniversary.

It contains twelve of what I consider to be my best songs from my 40+ releases over the years.

Tracks:
Side 1: Fifth Column/Holiday in Albania/Sawdust and Empire/This Is Free Europe/Tyler Smiles/Just One Life
Side 2: The Ghost Road/Baghdad Ska/Guy Fawkes' Table/Looters/Wellingborough & Wigan/Pride's Purge
It's available via PayPal in the UK on the Merch page and I am doing an online launch, playing all 12 tracks, on Monday June 22 at 7pm at facebook.com/attilathestockbroker

If you are outside the Uk please order from Finland at jukka@hiljaisetlevyt.com

It will be joined later in the year by my Collected Works book of the same name, 40 years of poems and song lyrics published by Cherry Red Books.

LIVE AT THE RIVOLI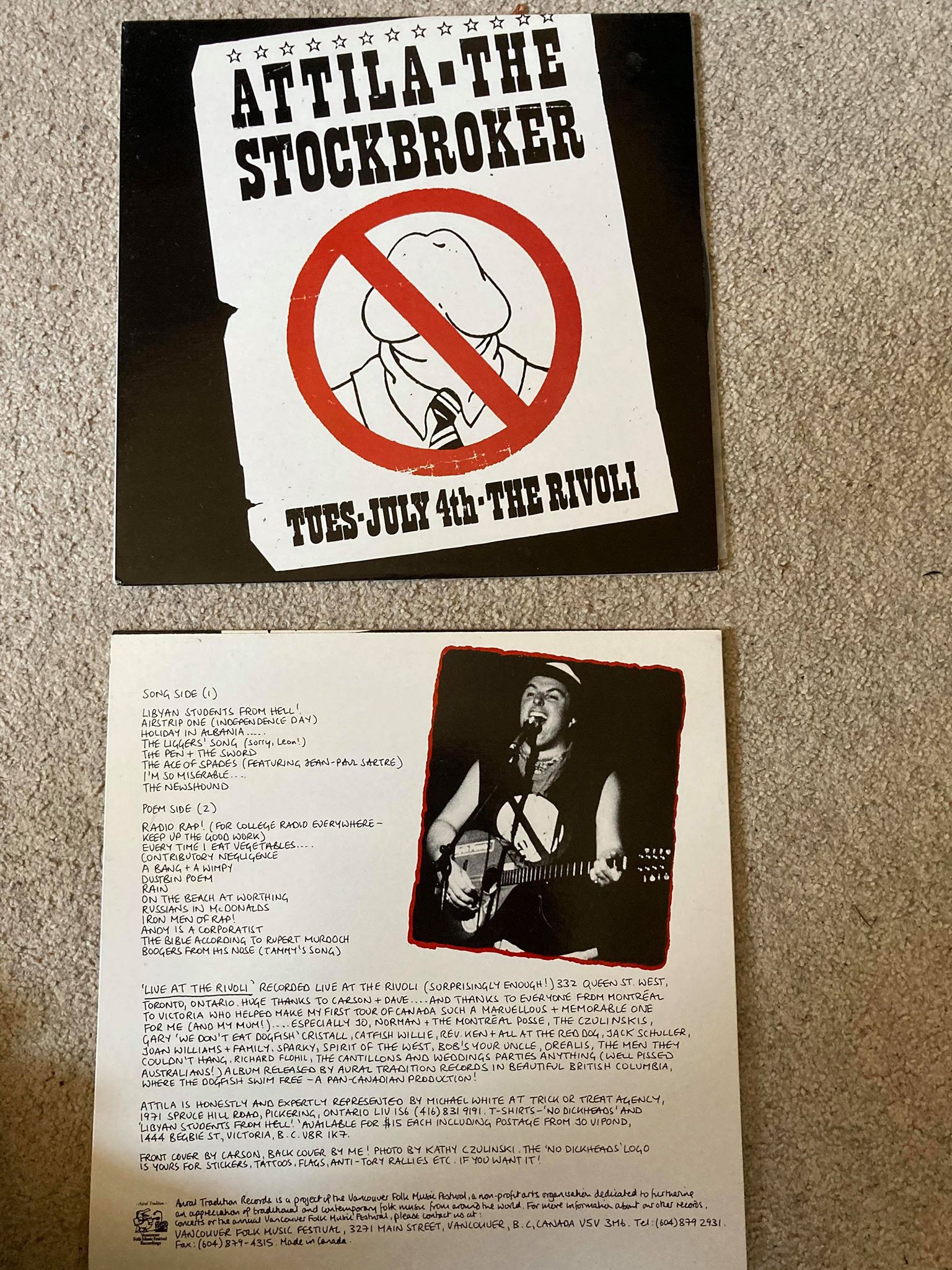 40 copies of my 1989 album Live at the Rivoli, recorded in Toronto in 1989, have just been discovered in a basement in Vancouver and are also now available on the Merch page.

It's a very good snapshot of the period...

Tracks:
Side 1: Libyan Students from Hell!/Airstrip One/Holiday in Albania/The Liggers' Song/The Pen & The Sword/Jean Paul Sartre sings Motorhead/I'm So Miserable/The Newshound
Side 2: Radio Rap!/Every Time I Eat Vegetables/Contributory Negligence/A Bang & a Wimpy/Dustbin Poem/Rain/Worthing/Russians in McDonalds/Iron Men of Rap!/Andy is a Corporatist/The Bible According to Rupert Murdoch/Boogers From His Nose (Tammy's Song)
---


News Update - June 2019

Hi everyone!
Here's an up to date list of gigs so far booked for the next three months - loads as usual. In July among many others an absolute (barn) stormer coming up at the Dublin Castle and a return to my old Essex stomping ground in a very good cause. In August three days at Rebellion punk festival and 10 up in Edinburgh at the Fringe, including my very first early music show at a classical venue - that will be interesting!
Enjoy the summer!
Cheers Attila


---


News Update - December 2018

Hi everyone! Three gigs this week up North, starting tomorrow with my first one ever in my wife Robina's home town of Northwich, then Ashton and Sheffield..a couple of local ones, then that's it for 2018. Loads more planned for next year, which looks like a challenging one for us all......

It's been a wonderful year musically for me,finally realising my lifelong ambition and recording 'Restoration Tragedy', an entire album combining early music and punk, with my wonderfully talented new Barnstormer 1649 line up. It's available on double vinyl and CD at gigs and from the Merch Page - nowhere else! It has had some fantastic reviews - if you're interested, a few of the best ones are here..


In 2019 I'm doing 7 dates with the band in Germany before Brexit. Who knows what's going to happen after that? There are loads of others all over the place, here and being planned, solo and with the band...

Reminder, if you do social media: My thoughts on the political situation, all kinds of other matters and of course gig dates, new poems, videos etc are splattered regularly on my Facebook page at https://www.facebook.com/attilathestockbroker/ and on Twitter at https://twitter.com/atilatstokbroka


---

News Update - August 2018

Hi everyone,
I'm incredibly pleased with the response to the live shows and the new album 'Restoration Tragedy' I've just released with my new 'early music meets punk' band, Barnstormer 1649. Crumhorn, cornamuse, bombarde, shawm, rauschpfeife, 5 different recorders, violin, viola, mandola, mandocello, guitar, bass, drums, voices and words. Songs and music from the English Revolution of that year: music for Levellers, Diggers and Ranters! We really don?t sound like anybody else.... As well as on CD, the album is now a double vinyl LP with gatefold sleeve (picture of both sides enclosed) all the lyrics, historical explanations and illustrations.

Available at all forthcoming gigs and via paypal and cheque on the Merch page. There's a T Shirt and a badge as well, with bits off if you buy them together :) It is 58 minutes long and far and away the best musical project I have completed in 38 years as Attila. You can hear some tracks at https://soundcloud.com/barnstormer1649

We are launching it at the Wigan Diggers' Festival on Saturday 8 September (on stage about 3.30pm) and then on a massive tour of England. It's English history, and as 'Englishness' is such a theme in our divided country right now, we want to take these songs far and wide and demonstrate our radical past. If you are interested in hosting a gig please get in touch. And....

DIE LETZTE TOUR VOR BREXIT-EIER! (The last tour before Brexit bollocks!) I am planning one final tour of Germany (and maybe Holland and Switzerland) in mid February 2019. Maybe the last ever band tour I shall do outside the UK if regulations and border checks for instruments etc are imposed after Brexit at the end of March.... So if you'd like to put us on in mainland Europe then please get in touch.

And if you would like to review the CD for a publication/website (musical or historical) or play it on the radio please get in touch with details. In other news my autobiography 'Arguments Yard' has now had a REPRINT and is available from the Merch page along with my poetry books and earlier CDs.


---

News Update - October 2017

Here are the latest load of gigs, starting with four in Germany this week with my band Barnstormer. I could really do with a German booking agent to help with future tours - I am so busy! If you can help please email back and let me know....

And a heads-up about that rarest of phenomena: two BBC TV poetry documentaries, both featuring a host of wonderful poets - and me. Poetry on TV is a rare and beautiful thing, nearly as are as a goal from Crystal Palace, so I thought I'd spread the news.

On Tuesday 3 October, at 9pm on BBC4, there is a documentary about the groundbreaking 1960s poetry anthology 'The Mersey Sound' which I discovered aged about 14 in the early 70s - along with Hilaire Belloc and the Clash it was a huge influence on me as I started to write the kind of poetry I hoped people could relate to: http://www.bbc.co.uk/programmes/b097bl8c

It's also worth pointing out that the 2015 documentary 'Rhymes, Rock & Revolution - the story of performance poetry', featuring the Beats, JCC, myself, Benjamin Zephaniah and Kate Tempest among others, has just been rebroadcast on BBC4 and is on Iplayer for the next 3 weeks or so: http://www.bbc.co.uk/programmes/b06hhgxs

I'm 60 on October 21st. We're having a beer and punk rock infused party at my local, the Duke of Wellington in Shoreham, featuring my great friends NEWTOWN NEUROTICS and TV SMITH. All friends are welcome!

Cheers A


---

News Update - July 2017

Hi everyone.So much to write about, so much to talk about on stage...

FIRSTLY: Need help with North/Middle German tour for my band Barnstormer between 5-10 October! A Dutch gig would also help on the way. If you have any proposals please email attila@attilathestockbroker.com And please share this with anyone you think might help.

Four dates in Wales next week including the Workhouse and Caerleon Festivals - then an incredibly busy August with gigs at Rebellion, Bridport and Farmer Phil's Festival, a return to the PBH Free Fringe at Edinburgh for ten shows - nine at the legendary Bannerman's Bar, one at La Belle Angele - followed immediately by a Swedish tour. On 7 October myself and my band Barnstormer are playing at Knust in Hamburg and we need gigs for the Thurs, Fri and Sunday in the Ruhr and North Germany on the way there and back. If you can help, please get in touch. And have a great Summer!

My new poetry book 'Undaunted' is available from my website along with my autobiography and loads of other stuff on the merch page. And if you haven't seen it yet there is a great little documentary video celebrating my 35 years earning a living as a poet.


---

News Update - March 2017

'Undaunted', Attila's 9th book of poems and his most topical, heartfelt and personal ever, is published on 2 April 2017 and can be ordered from the merch page. It features some wonderful illustrations from the Barnstormer guitarist, Dan Woods. Each copy comes with a free CD of Attila's much-acclaimed poems for his mother and stepfather. As usual, Attila will be doing loads of gigs all over the place! If you would like to put him on, get in touch via attila@attilathestockbroker.com, Facebook or Twitter



---

News Update - February 2017

Young film maker Farouq Suleiman has just produced a short documentary about Attila for his 35th anniversary earning a living as a poet with lots of old footage - it's here

There are loads of gigs already booked for 2017 with more coming ­ and Attila's next book of poems, 'Undaunted' is finished and should be published in April.